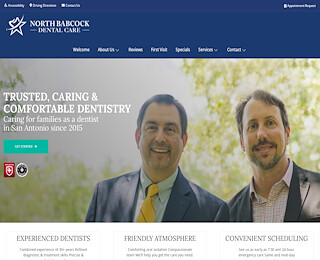 Veneers are one of the most common cosmetic dental materials used in San Antonio. You can think of veneers as fake fingernails for your teeth. Veneers are simply applied to the front of the teeth, and they provide a relatively low-cost way to dramatically improve the size, color, and shape of the teeth. The most common types of veneers are porcelain veneers, but veneers can also be made of composite resin.
There are Two Types of Veneers in San Antonio
A veneer will completely cover the tooth that it is attached to, protruding slightly over the edge of the tooth for optimal appearance and complete coverage. Porcelain is glasslike, and porcelain veneers are by far the most popular veneers in San Antonio because they are real-looking and durable. Porcelain veneers are manufactured in a laboratory by our master technicians, made to complement and enhance the appearance of your existing teeth.
Composite resin veneers may also be manufactured in our dental laboratory, but most often, these are made by our dentists chairside. Our dentists are very experienced with porcelain and composite resin veneers. If you elect to receive composite resin veneers, you can count on our dentists' experience, skill, and artistry to create a veneer that works for you.
Choosing the Best Dentist for Your Veneers
When people think about getting veneers or otherwise going to the dentist, they hardly ever have a thought that not all dentists are created equally. The fact is; the quality and appearance of your veneers - porcelain or composite resin - will depend solely on the skill of the craftsman who manufactures them. The experience and skill of the manufacturer is the single most determining factor in how your veneers will look. Therefore, North Babcock Dental Care is a good option as we truly have the most skilled veneer dentists in San Antonio.
Determining Your Goals to Provide You with the Best Veneers
The goals of our patients are also factored in when creating veneers. For example, many of our patients want very natural-looking aesthetic veneers that enhance the look of their teeth but don't look fake either. On the other hand, some patients want a perfect set of what teeth - a Hollywood smile. These kinds of veneers can be beautiful. However, they tend to look more cosmetic and less natural. Our job as veneer dentists is to provide each patient with the outcome that they want to achieve and provide our honest feedback when doing so is appropriate.
How Much Do Veneers Cost in San Antonio?
There are several variables that must be taken into consideration when computing the cost of veneers. For example, porcelain veneers are going to cost more than composite resin veneers. You might expect to pay about half of the cost of porcelain veneers if you purchase composite resin veneers, but the quality will not be as good. There are other factors to be considered as well, not the least of which is how many veneers you want.
Veneers San Antonio
North Babcock Dental Care
2106911200
5970 Babcock Road, San Antonio, TX 78240
View Larger Map